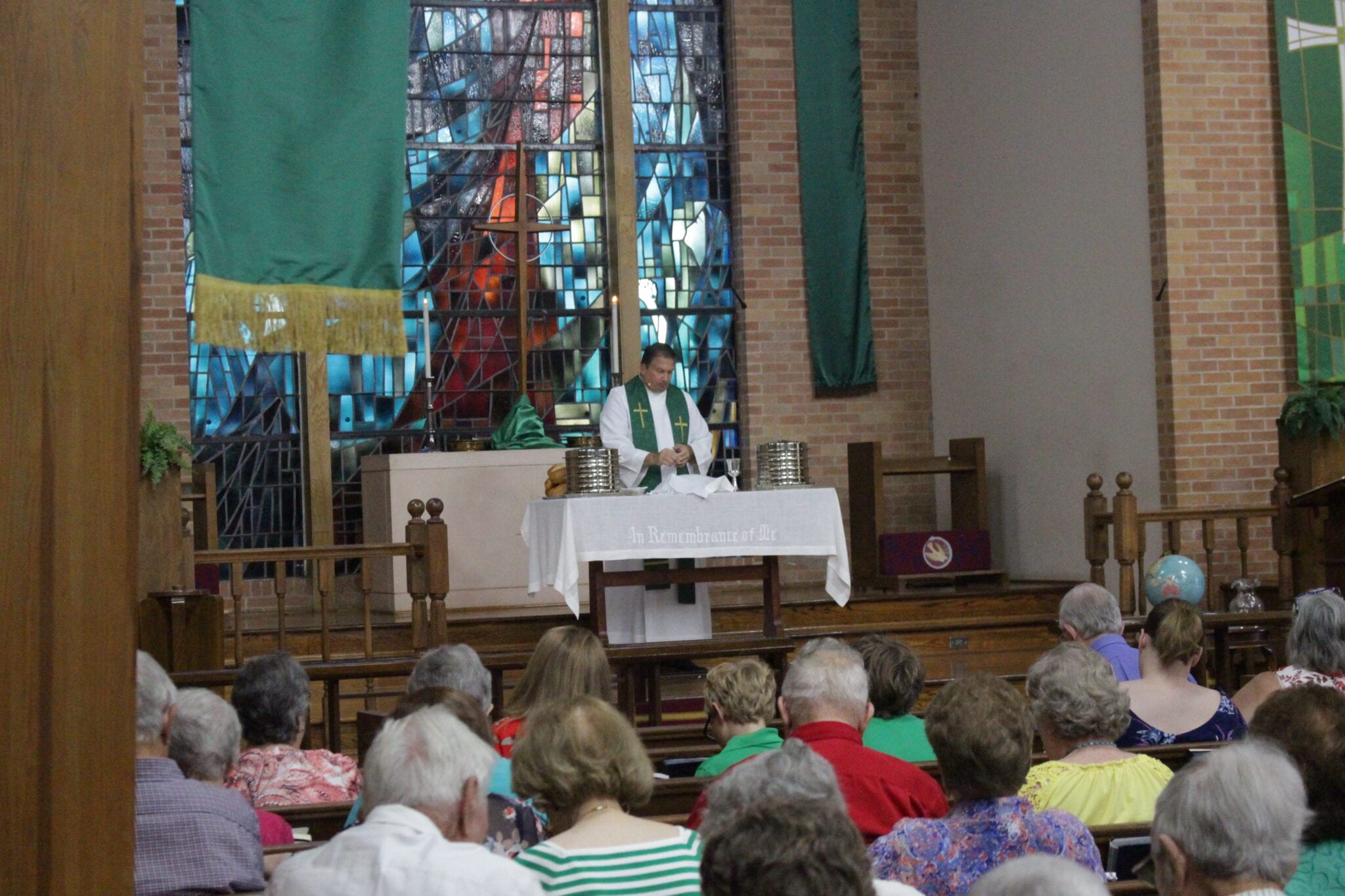 The 10:45 A.M. Sanctuary Service flows in the traditional United Methodist style of worship, as laid out in the United Methodist Hymnal and the Book of Worship. 
Entrance and Gathering:
Following the brief weekly announcements, the Sanctuary Choir opens worship by singing the Choral Introit, based on a text appropriate for that Sunday.
The congregation joins together in reading an Opening Prayer and singing a hymn.
Proclamation and Response:
We hear a total of three scripture readings, and respond in song – singing a hymn which reinforces the message of the scriptures.
The sermons at FUMC Victoria bring God's Word to us, to open and explore the ways in which God speaks to each and every one of us, through growing in unity and faith and love as members of this church family, and as "fellow citizens with the saints and members of the household of God." (Ephesians 2:19)
As a congregation we respond to this proclamation with an affirmation of our faith, such as the Apostles' Creed, and through lifting up of our prayers: for friends, family, community, country and all of God's Creation.
As a congregation, we confess our sins against God and against one another; we hear God's word of Pardon, and we share Christ's Peace with signs of reconciliation and love.
Thanksgiving and Communion:
We offer up the first fruits of God's bountiful gifts to us, both as a response to hearing God's Word and an act of thanksgiving.
On the first Sunday of each month we celebrate Holy Communion.
Sending Forth:
We close the service in singing a hymn. Hymns are a vital part of the United Methodist faith tradition. "Above all sing spiritually. Have an eye to God in every word you sing." (John Wesley, 1761)
Following a benediction from the pastor, we "go forth in peace to love and serve the Lord".
The Sanctuary Choir supports the congregation in the singing of hymns, and, in addition to the Choral Introit, sings an anthem following the opening scripture reading. The anthem serves to encourage a deeper connection with the scriptures and the sermon topic; the music also reflects an offering of praise to God, on behalf of the entire congregation.
Subscribe to Our Newsletter
Stay up to date with news and events happening at First United Methodist Church - Victoria, TX